Information and Communications Technology and Data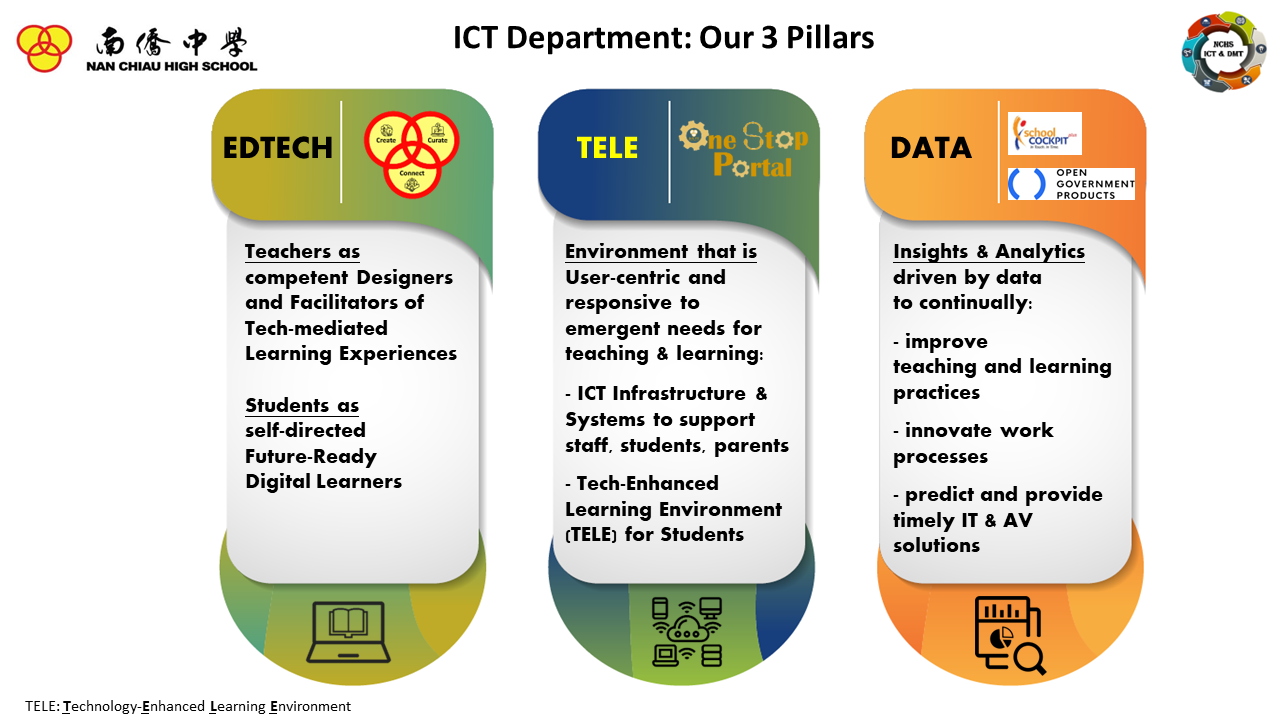 Vision
To propel NCHS towards an agile ICT learning ecosystem that is secure, inclusive and innovative.
推动南侨建立一个安全,包容和创新的敏捷ICT学习生态系统。
Mission 
To support quality teaching and learning anytime and anywhere undergirded by future-ready, scalable, and reliable infrastructure.
以前瞻性想法和设计且可靠的基础架构来支持随时随地的高质量教学。
DEPARTMENT DETAILS
Head of Department:
Mr John Mak
Subject Head / ICT:
Mr Lee Heng Leong
Department ICT Champions (2023):
Ms Angeline Yar Rumin (PE Department)
Ms Charlene Chen Ying (Humanities Department)
Ms Claire Low (Aesthetics Department)
Ms Doris Toh (Math Department)
Mr Esmond Tay Rong Yao (Science Department)
Mdm Hani (Science Department)
Ms Ting Hann Sy (MTL Department)
Data Committee (2023):
Mdm Siak Chock Kwun
Ms Doris Toh
Mr Tay Rong Yao Esmond
Ms Nur Maizurah
Our Goals
To have every NCzen as a digital learner who is empowered with technology in their own hand, to achieve quality learning.
To develop NCzens to be a self-directed learner and active contributor through ICT.
To develop NCzens to be a digital creator who are passionate in embracing a culture of innovation and co-creation to solve real-world problems.
To promote the infusion of ICT to enhance classroom experience.
Our Create-Curate-Connect Programme (2021 onwards)

Cyber Security & Wellness

ICT Innovations @ NCHS